SC Post Effects
SC Post Effects
Thank you for purchasing SC Post Effects!
This package offers 33 post effects to enhance your art style or feedback. Made to reap the full benefits of the Post Processing Stack v2.
This package is in its beta stage, some features might not work correctly, or are in an early stage. The first release is set for Q2 2019.
The minimum supported version for v1.0.0 will be Unity 2018.2. Only an installation of the Post Processing Stack through the Package Manager will be supported. Future versions of the HDRP will not be supported since this requires a vastly different system for post effects.
Feedback and suggestions can be made in the forum thread:
https://forum.unity.com/threads/513191
This manual is intended to clarify the use of the package.
1
of
1
users found this section helpful
To be added
Other effects may be added in the future, suggestions are welcome!
Trello board: https://trello.com/b/J5mEv8Cn/sc-post-effects
1
of
1
users found this section helpful
Getting started
Import the Unity package through the Asset Store download manager (Found under Window->Asset Store).
Make sure the console is clear of any errors before importing, otherwise scripts will fail to compile
Notes:
All the effects are contained in separate folders, so you easily leave out any effects you don't want.
Be sure to include all other folders, they contain installation and help functionality as well as shader libraries.
1
of
1
users found this section helpful
Installation
You will be presented with the installation screen, should anything not check out, instructions will be displayed.
If the installation window doesn't appear, or you've close it, open it through Help->SC Post Effects Installer.
The Post Processing Stack (v2) must be installed before you can continue. You can either use the GitHub or Package Manager installation. Unity versions older than 2018.1 must use the GitHub installation.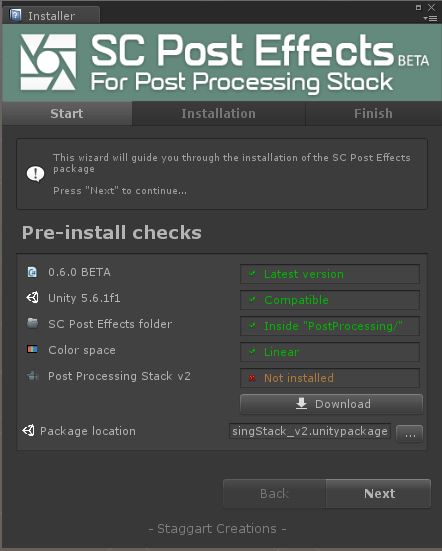 Installation will continue on the next screen, where you can choose to install the demo content as well.
0
of
0
users found this section helpful
Setup
In order to use the Post Processing Stack, a script component must be added to your camera. Additionally a post processing volume must be active in the scene.
Open the help window through Help -> SC Post Effects
This window has a "Quick setup" section which allows you to quickly add Post Processing to your scene.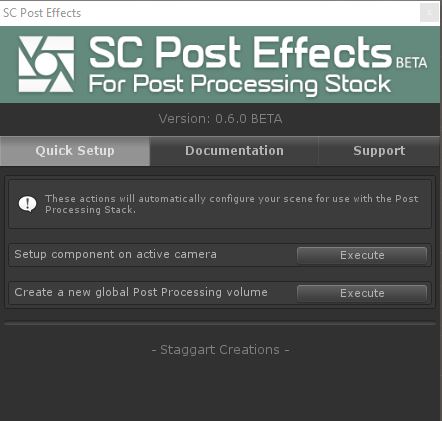 Manual set up:
Camera setup
Select your main camera, and add a "Post Process Layer" script component.
On the component, in the "Layer" dropdown, select the "PostProcessing" layer
Post Processing Volume Setup
Go to GameObject -> 3D Object -> Post-process Volume to create a new volume.
Assign the "PostProcessing" layer to this object
Tick the "Global" box
Choose a profile in the profile field
0
of
0
users found this section helpful
Profiles
Each field has an override checkbox on its left, you'll need to toggle the settings you want to override for this volume before you can edit them. You can quickly toggle them all on or off by using the small All and None shortcuts at the top left.
The top-left On/Off toggle is used to override the active state of the effect itself.
Finally, you can right-click and effect title to show a quick-action menu.
From there you can start adding local volumes with various priorities and blend distances to your scene and see all of them blend automatically.
There are a few example profiles in the SC Post Effects/_Examples/Profiles folder you can try out.
0
of
0
users found this section helpful
Volumes
(Excerpts from GitHub documentation)
The way post-processing works in this framework is by using local & global volumes. It allows you to give each volume a priority and a set of effect overrides to automatically blend post-processing settings in your scene. For instance, you could have a light vignette effect set-up globally but when the player enters a cave you would only override the intensity setting of the vignette to make it stronger while keeping the rest of the settings intact.
The Post Process Volume component can be added to any game object, the camera itself included. But it's generally a good idea to create a dedicated object for each volume. Let's start by creating a global Post Process Volume. Create an empty game object and add the component to it. Don't forget to add it to a layer that's being used by the mask set in the Post Process Layercomponent you added to your camera!
By default it's completely empty. From there we can do two types of volumes:
Global: a global volume doesn't have any boundary and will be applied to the whole scene. You can of course have several of these in your scene.
Local: a local volume needs a collider or trigger component attached to it to define its boundaries. Any type of 3D collider will work, from cubes to complex convex meshes but we recommend you use simple colliders as much as possible, as meshes can be quite expensive to traverse. Local volumes can also have a Blend Distance that represents the outer distance from the volume surface where blending will start.
We want a global volume, so let's enable Is Global.
Weight can be used to reduce the global contribution of the volume and all its overrides, with 0being no contribution at all and 1 full contribution.
The Priority field defines the volume order in the stack. The higher this number is, the higher priority a volume has.
0
of
0
users found this section helpful
Compatibility
Unity Versions
Supported through Unity 5.6.1 to 2019.1.
Beta and Alpha versions are not officially supported and may run into issues.
Post Processing Stack
A minimum of version 2.0.17 is required at the time, as installed through the Package Manager. The alleged "v3" is not supported as this time.
Scriptable Render Pipeline
The Post Processing Stack is intrinsically compatible with the Lightweight Render Pipeline, as such any effects will work out-of-the-box. Though, due to some things not being readily available as they are in the legacy pipeline, certain features are excluded:
Edge Detection, Depth Normals and Cross Normals solver
3D Hue Shift, Geometry influence parameter
Lens Flares
Black Bars
Please note that the HDRP is still in preview and does not support the Post Processing Stack since Unity 2019.1.
In version LWRP 4.6.0+ the fog skybox blending mode fails to work, this will be supported from LWRP version 5.7.2 (Unity 2019.1+) in a future update.
HDRP in Unity 2019.1 features an integrated Post Processing Stack (v3), it does not support the custom effects as included in this package!
VR
Has been tested using an Oculus Rift with Multi- and Single-Pass Stereo Rendering. Mobile VR remains untested. Please note that the Post Processing Stack requires Unity 2017.2+ for full Single-Pass Stereo Rendering support.
Effects excluded from VR compatibility:
Sunshafts
Fog (height fog feature)
Cloud Shadows
Ambient Occlusion 2D
Radial Blur
Lens Flares
Overlay
Sketch (World-Space projection mode)
Kaleidoscope
Mobile
Mobile devices are bandwidth limited, so post processing must always be used sparingly. Multi-pass effects such as Blur and Lens Flares should be avoided.
This platform has not yet been tested for artifacts or performance, so it currently not considered compatible.
0
of
0
users found this section helpful
Known Issues
OpenGL/macOS
The Kaleidoscope effect doesn't work on OpenGL at all, the reason is currently unknown.
Fog ignores water shaders and particles
This is a general 3D rendering issue. Seeing as water/particle shaders are transparent, they do not write to the depth buffer. Fog is a depth-based effect, making transparent shaders virtually invisible to it. Circumventing this is not a trivial thing to do, and would at least require the water/particle shader to be modified. Unfortunately, I cannot offer such a solution as it delves more into creating a custom renderer (eg SRP).
This occurrence is barely noticed for shallow water bodies or particles close up.
Editor
Some effects that rely on the depth buffer (such as Edge Detection and Fog) may look slightly different in Scene View, since the far clipping plane varies, depending on your scene's size.
Sun Shafts
The sun shafts are cast from the skybox, for color values exceeding the set threshold. If highly emissive objects are placed between the viewer and the skybox, they will appear to cast sun shafts as well.
Fog height noise artefacts
When the camera is inside of the height fog and looking up, slight noise artefacts may show due to precision issues. Though, when using a skybox, this is barely noticeable.
0
of
0
users found this section helpful
Troubleshooting
[Error] CS1061: 'PostProcessRenderContext' does not contain a definition for 'stereoRenderingMode'
You are using an old version of the Post Processing Stack, update to the latest version through the Package Manager
[Error] failed to open source file: '../../../Shaders/StdLib.hlsl' at line X
This shouldn't happen in any case, ensure that all the files in the "Shaders" folder were imported.
This can also be a false positive. In which case you can click on the error, which will highlight the shader file. Next right-click on the shader and choose "Reimport", this will nudge things back into place.
[Error] RenderingCommandBuffer: invalid pass index X in DrawMesh
This error is thrown if there is a shader error, or a shader is missing. Be sure to have all package contents imported and use the latest Post Processing Stack version.
[Warning] Font size and style overrides are only supported for dynamic fonts.
Can be safely ignored, the demo scenes use a custom font. The demo scenes are to be revised for version 1.0.0 and will use geometry text instead.
Fog or Cloud Shadows start twitching when looking directly towards the Z-axis
This is a very specific and odd occurrence related to using Temporal Anti-Aliasing with these effects.
Sketch
When the camera is perpendicular to a XYZ axis, the sketch projection will appear to morph slightly.
Fog
The Fog effect may show artifacts where the skybox and objects meet.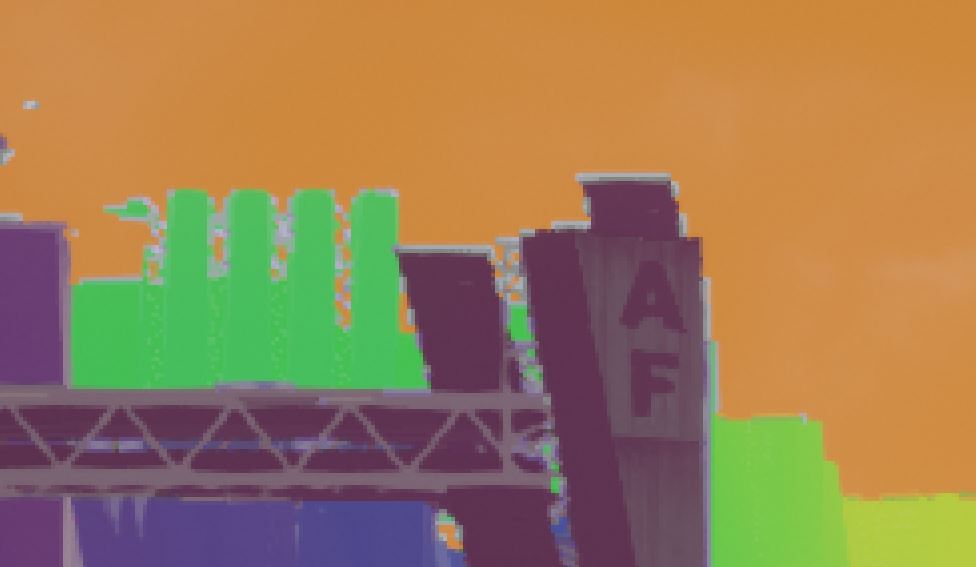 Disable (MSAA) Anti Aliasing in your Quality Settings
Metal: warnings
When using Metal rendering on macOS, you may see the following warning: "Metal: Fragment shader missing texture binding at index X".
Disable "Metal API Validation" in your Player Settings to resolve this. This warning will be thrown when a shader has an empty texture assigned, but is harmless.
0
of
0
users found this section helpful
Refunds
1
of
1
users found this section helpful
Effects
It's important to remember the rendering order can greatly affect the behavior of the effects. You can adjust the order on the "Post Process Layer" component on your camera.
A few examples:
If the Ripples effect is put before the Edge Detection effect, the edges will not be affected by the Ripples.
If Tube Distortion is put after Scanlines, the scanlines will also be distorted.
1
of
1
users found this section helpful
Edge Detection
Draws a line where an edge is detected. This is a revamp of the legacy edge detection image effect. The option to set an edge color and opacity has been added.
Several method can be used, the result of which entirely depends on what is drawn on the screen.
Triangle Depth Normals
Checks the difference between a pixel's normal value and their distance from the camera.
Rovert's Cross Normals
Works the same as the method described above, but uses an addition sample for higher precision.
Sobel Depth (Thin)
Draws an edge where neighboring pixels greatly differ in their depth value. Same method as used in "Borderlands"
Triangle Luminance
Uses the image's luminosity and creates an edge where the values differ. This works great for aesthetics that make use of strong and sharp color difference.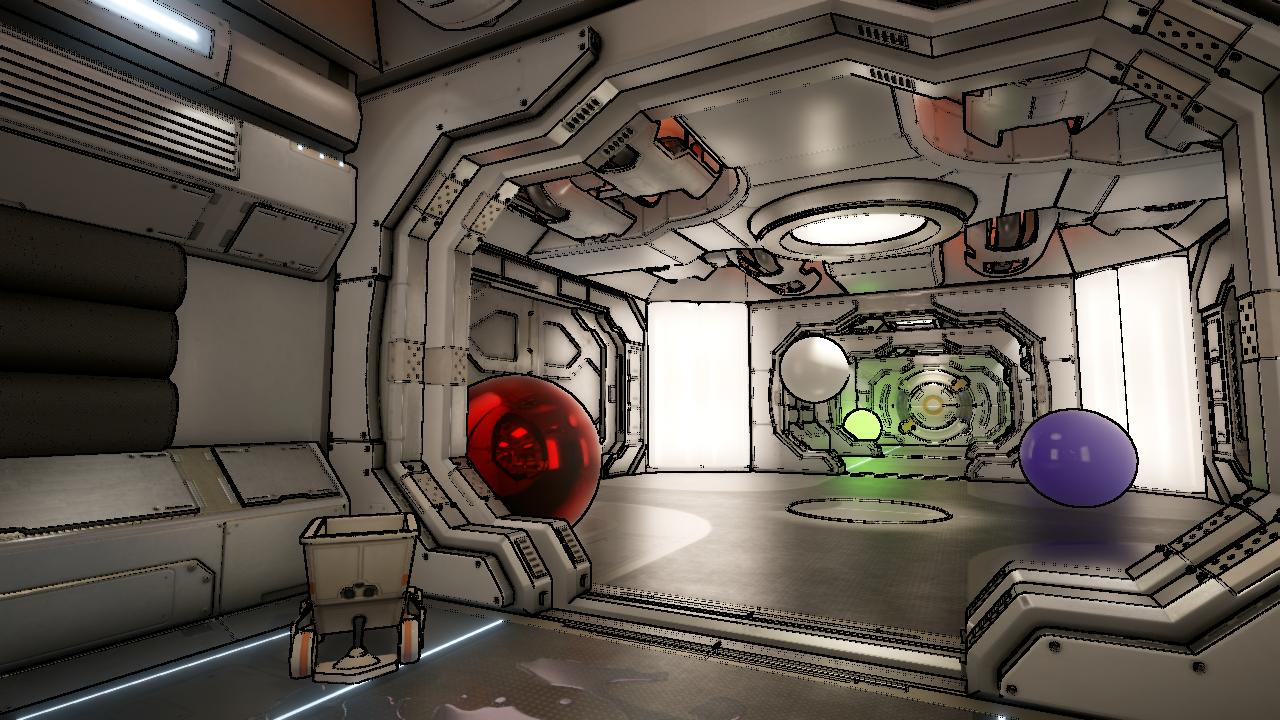 1
of
1
users found this section helpful
Fog
Adds distance and height-based fog to the scene. Also allows for a gradient texture to control the colors and opacity.
Height fog density can be controlled by supplying a grayscale texture.
0
of
1
users found this section helpful
Black Bars
Allows you to add a black bars to your screen, either horizontal (21:9) or vertical (4:3).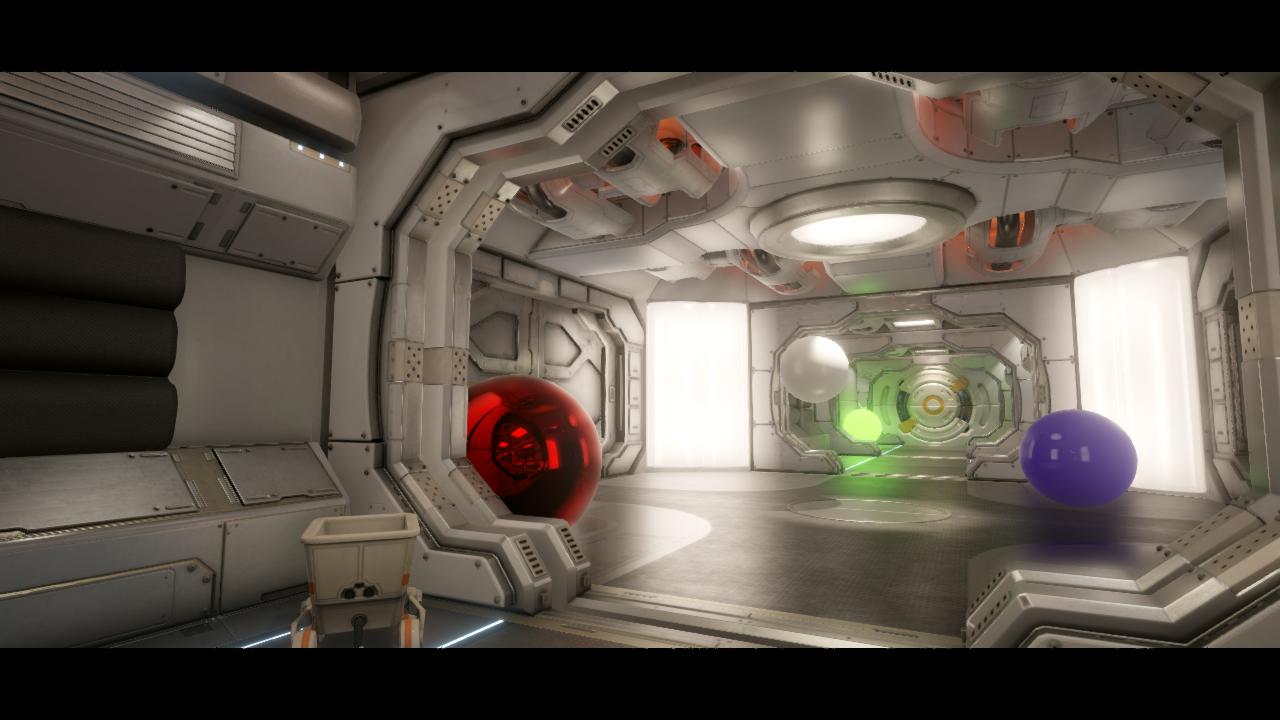 0
of
0
users found this section helpful
Kuwahara
Transform the image into an oil painting. Has the option to fade out the effect over distance.
This effect is quite heavy, which should be kept in mind when dealing with a performance sensitive project.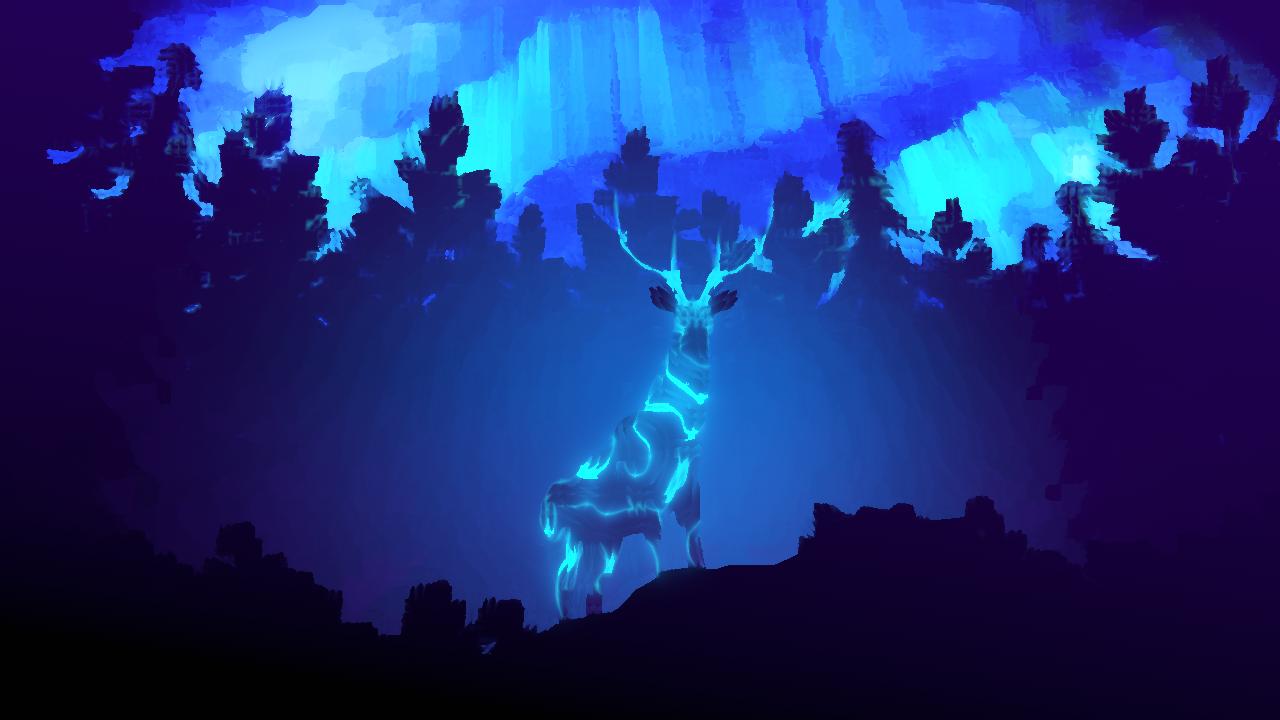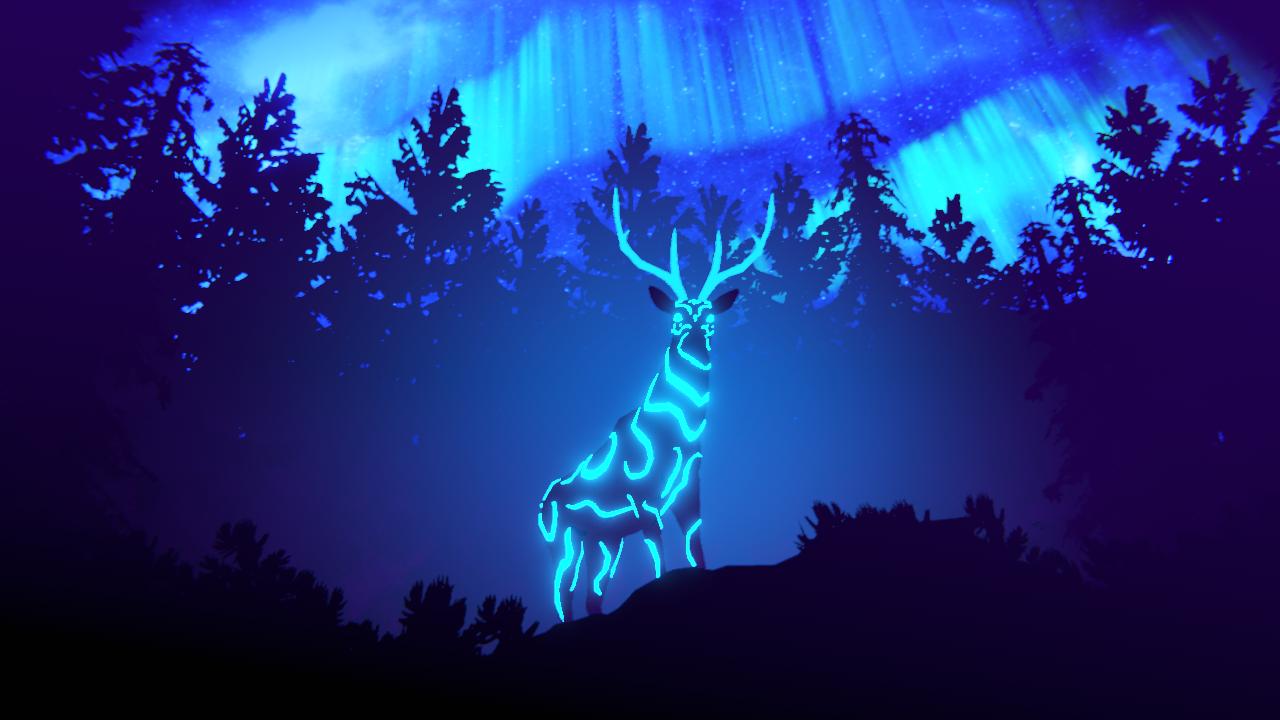 0
of
0
users found this section helpful
3D Hue Shift
A 3D hue shifting effect.
The "Geo Influence" parameter determines how strongly the effect adheres to the scene geometry. High values may induce banding artifacts.
0
of
0
users found this section helpful
Gradient
Draws a gradient texture over the screen.
This is to be extended with rotation options and blending modes.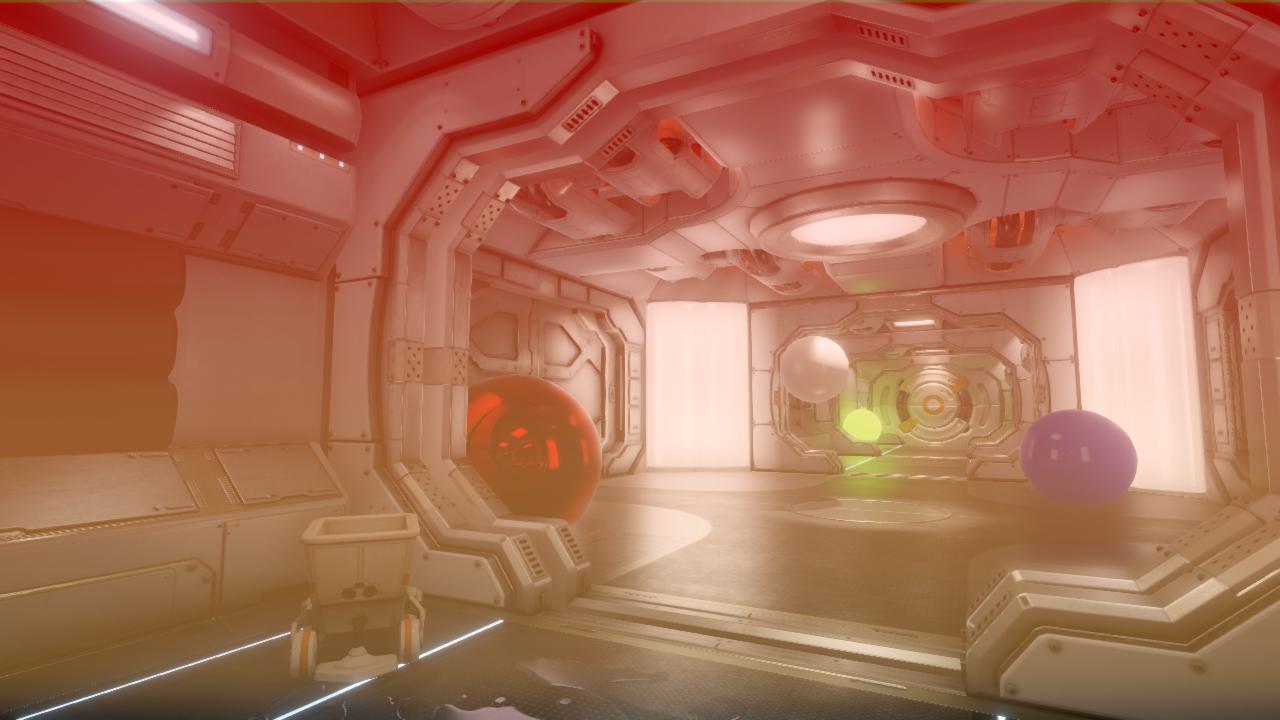 0
of
0
users found this section helpful
Color Split
Offsets the RGB channel, making the colors appear to separate from each other.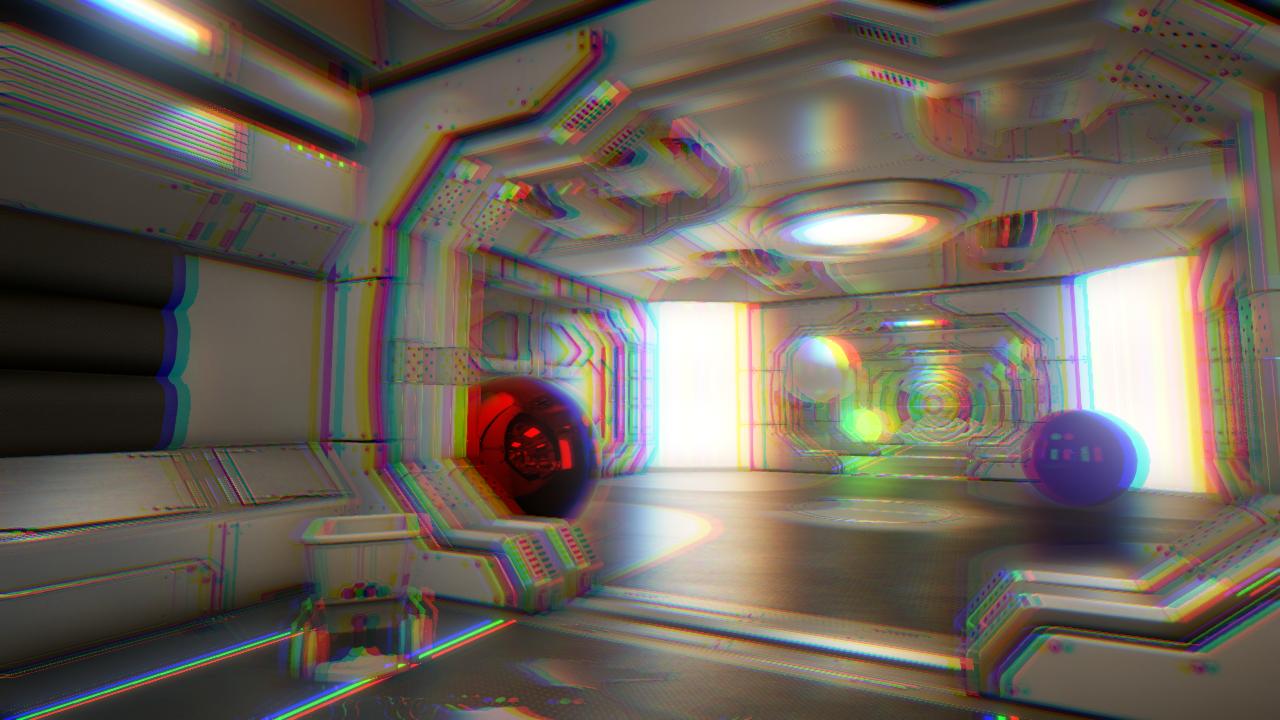 0
of
0
users found this section helpful
Posterize
Simulates low color bit depth, as seen in older games when hardware was limited.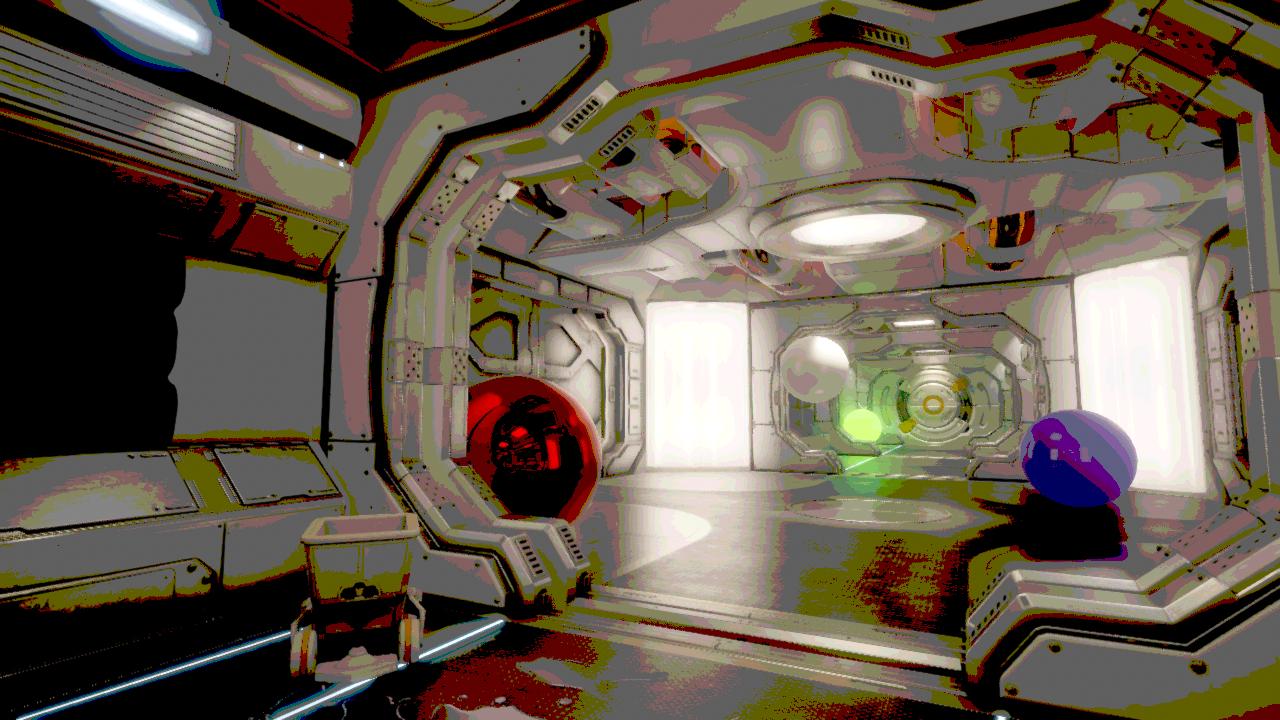 0
of
0
users found this section helpful
Danger
Can be used to create a effect that simulates pain or poisoning. Especially useful when used with volumes. You could set up a "frost" effect on your Global volume, and create local volumes around say… barrels of fire, that override the "Size" parameter.
A grayscale texture can be used to improve this effect. A few examples are included in the SC Post Effects/_Examples/Overlays folder.
In order for the "Size" parameter to work as intended, your texture must have white values between 0 and 1. The parameter interpolates between these values, making the texture appear to grow towards the center of the screen.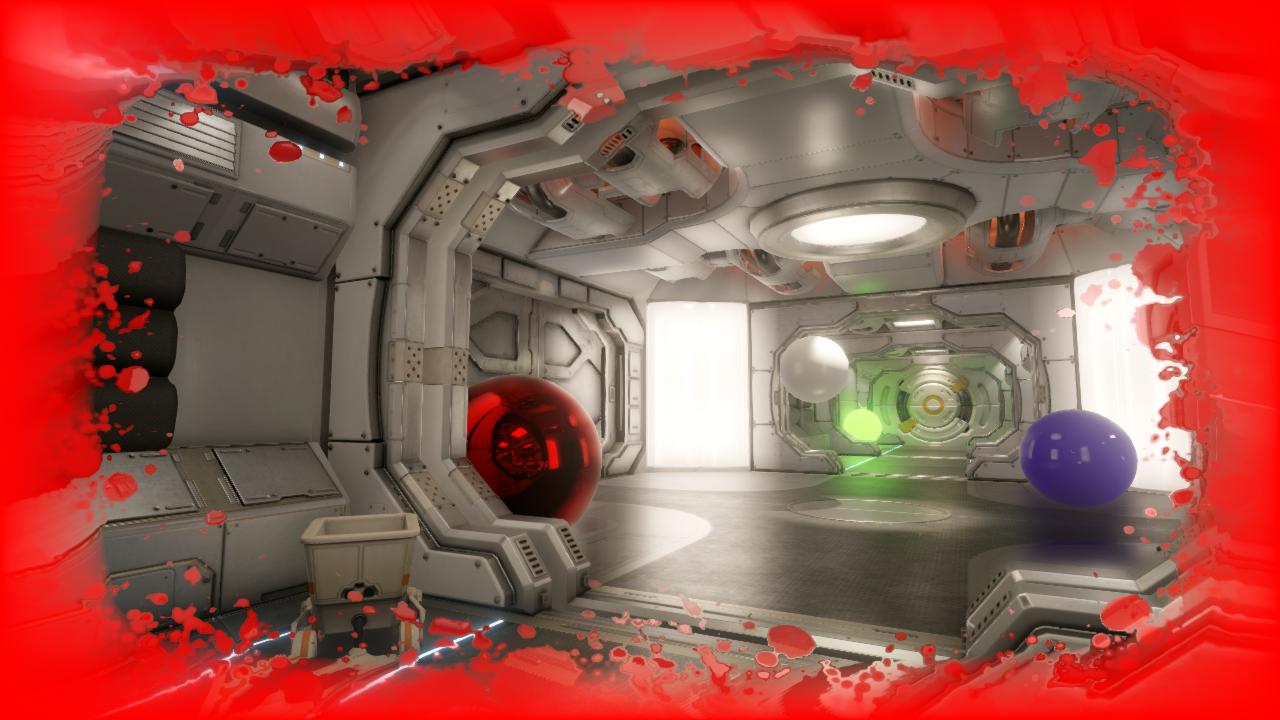 0
of
0
users found this section helpful
Double Vision
Makes the camera go cross eyed.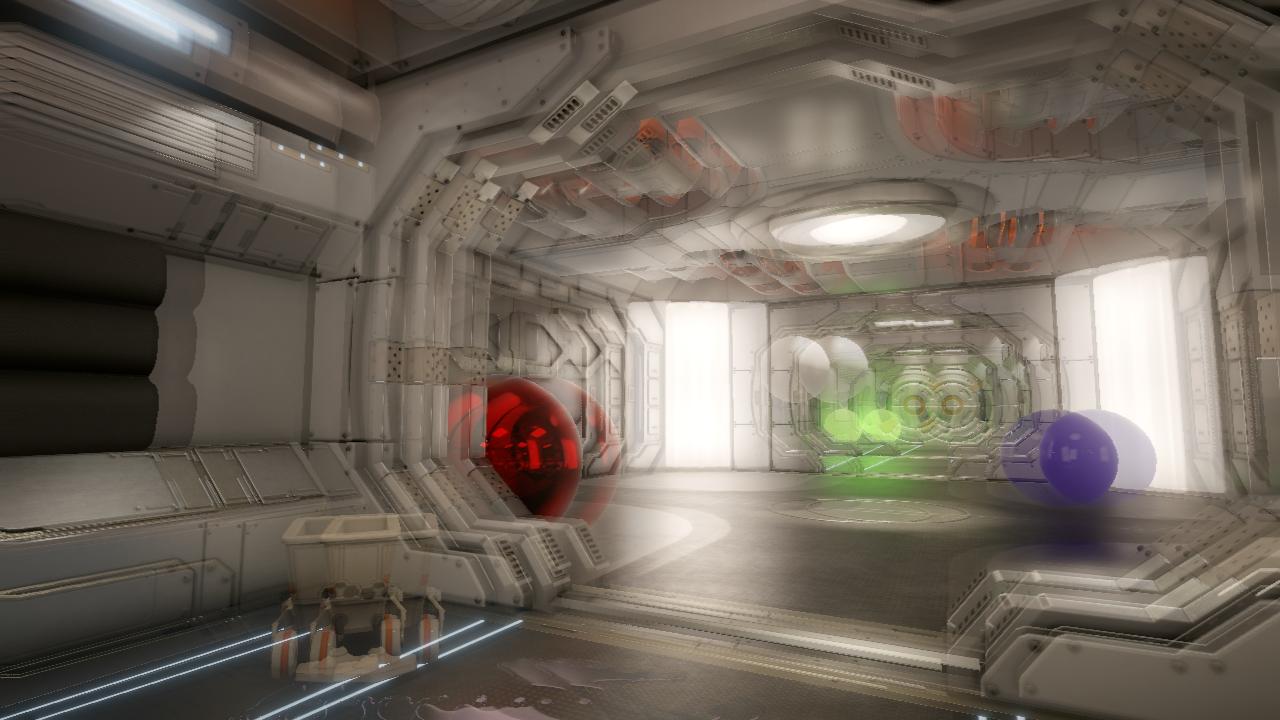 0
of
0
users found this section helpful
Dithering
Reduces the image fidelity by omitting certain pixels through a Bayer 4×4 dithering matrix.
Brighter parts of the screen will show less dense dithering, whereas dark areas may turn entirely black.
This effect is currently calculated entirely on the GPU. If this proves to be too inefficient, an option to use a lookup texture will be added.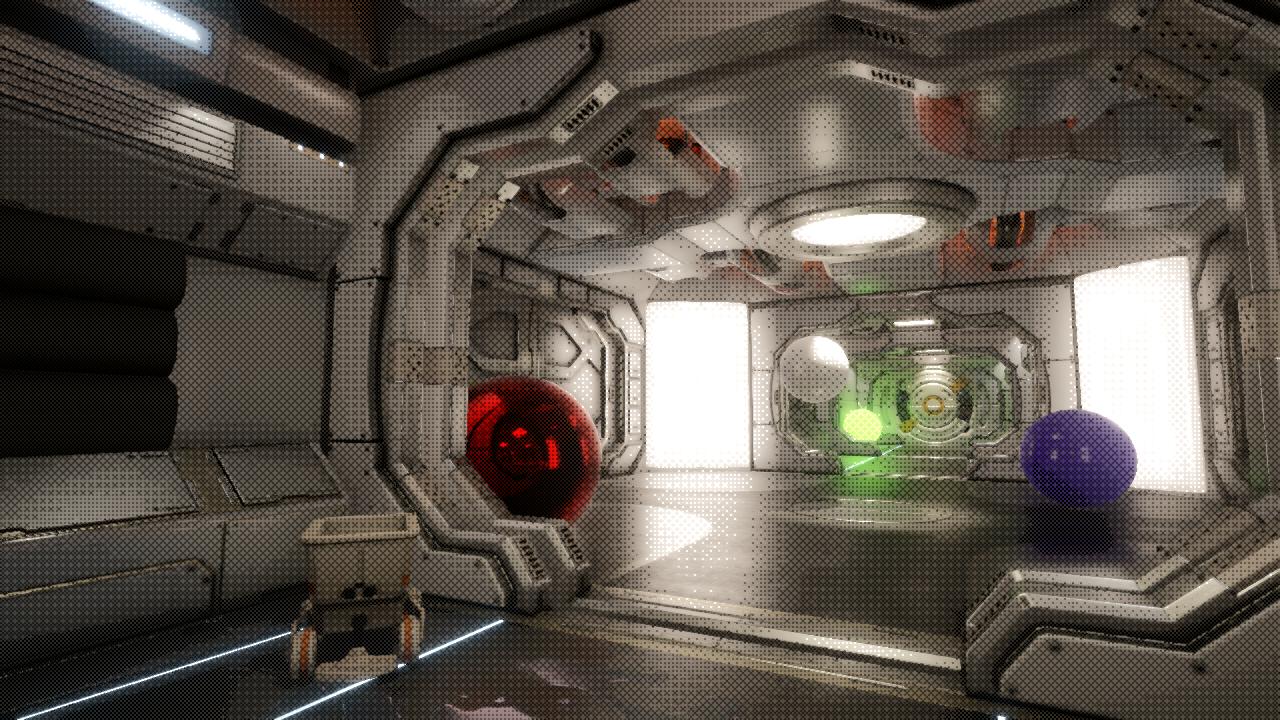 0
of
0
users found this section helpful
Kaleidoscope
Tiles the screen in "pie pieces". Has great uses for non-game purposes, like dynamic art works.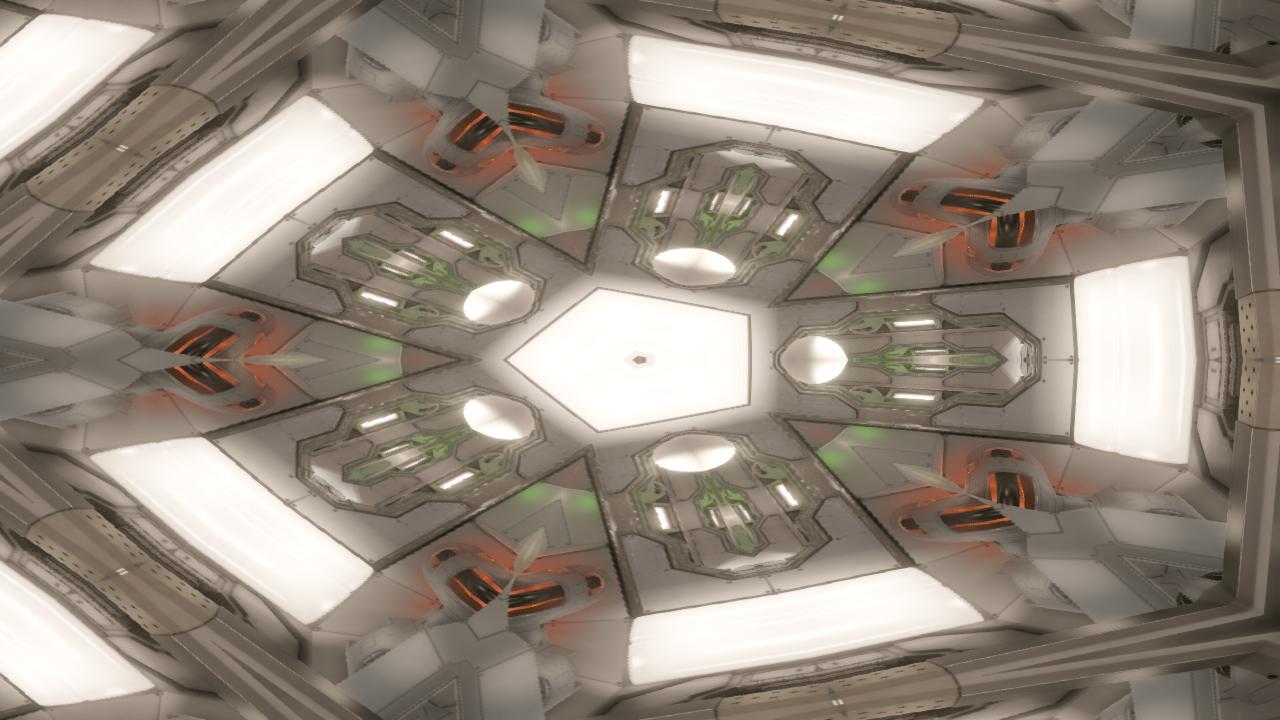 0
of
0
users found this section helpful
Invert
Inverts the screen colors.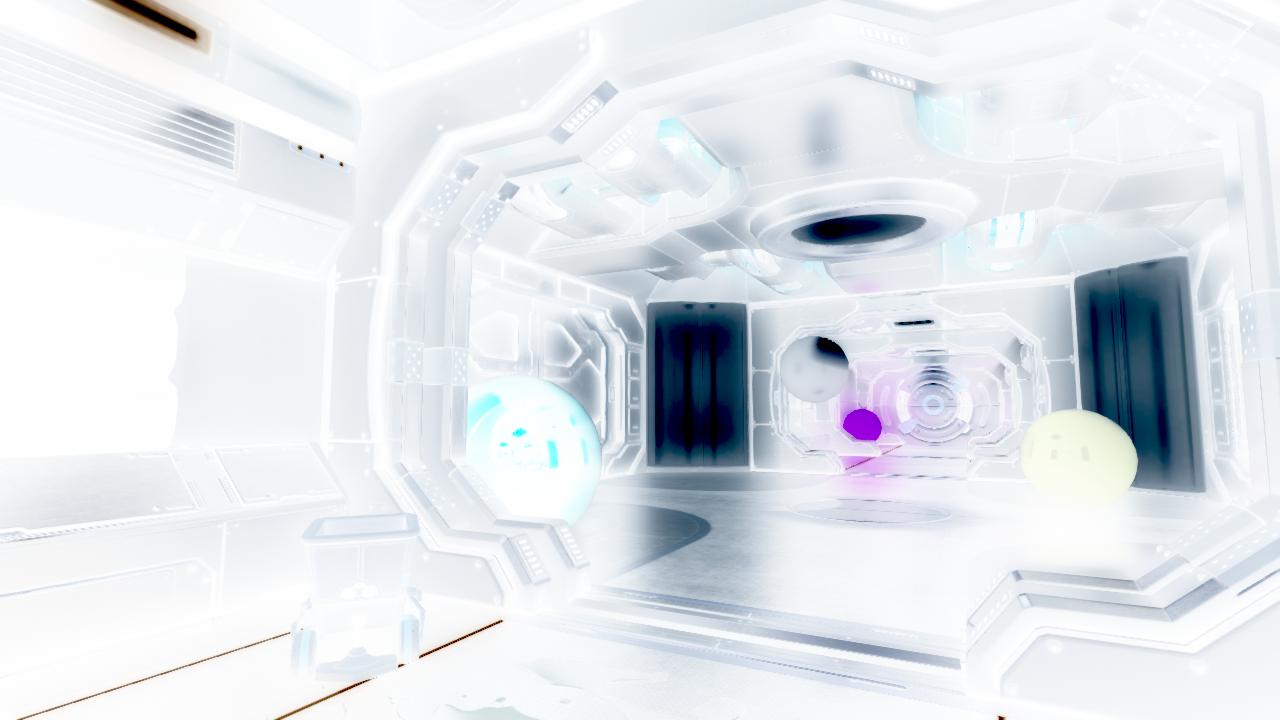 0
of
0
users found this section helpful
Pixelize
Simulates a low resolution screen to easily transform your image into pixel art.
Note: Does not actually lower the rendering resolution, the effect is only visual.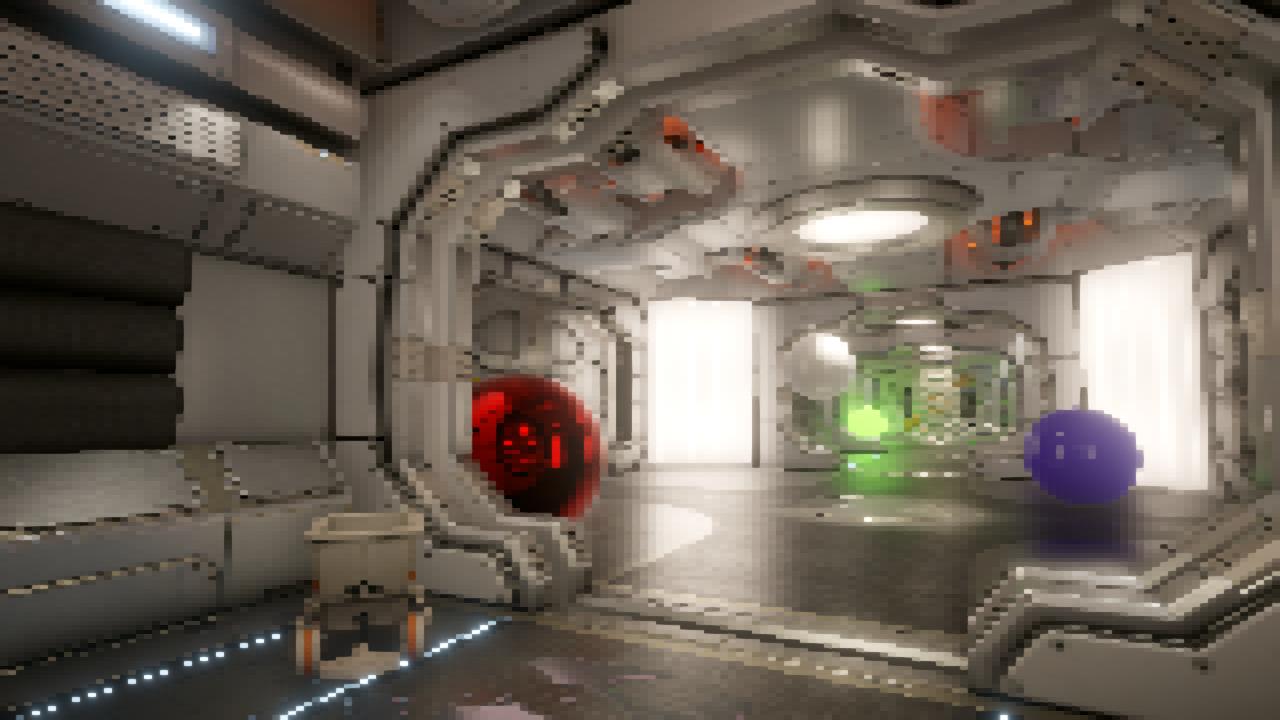 0
of
0
users found this section helpful
Refraction
When supplied with a refraction map this can be used to create cracked glass, frost, scratches, water drops etc.
Several example maps are included:
Clear ice
Cracked glass
Frost
Scratches
Shards
Water drops
If you'd like to use your own refraction map, you can convert a normal map to a DUDV map, which is similar to a normal map, but doesn't have a blue channel. More information can be found here: http://wiki.polycount.com/wiki/DuDv_map
0
of
0
users found this section helpful
Ripples
Makes the screen appear to wave. Has both a wave (emitting from the center of the screen) and a omni-directional mode.
Values like strength, speed and distance can be adjusted.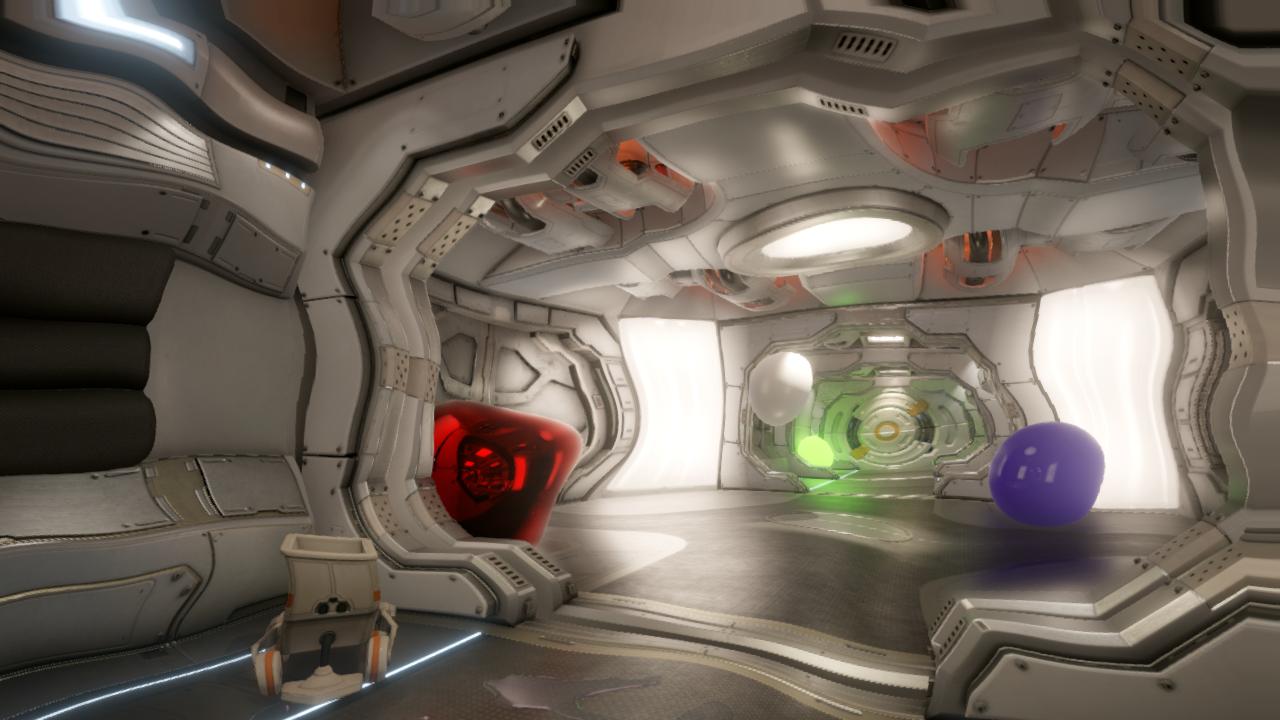 0
of
0
users found this section helpful
Scanlines
Draws horizontal lines over the image, to simulate a CRT screen.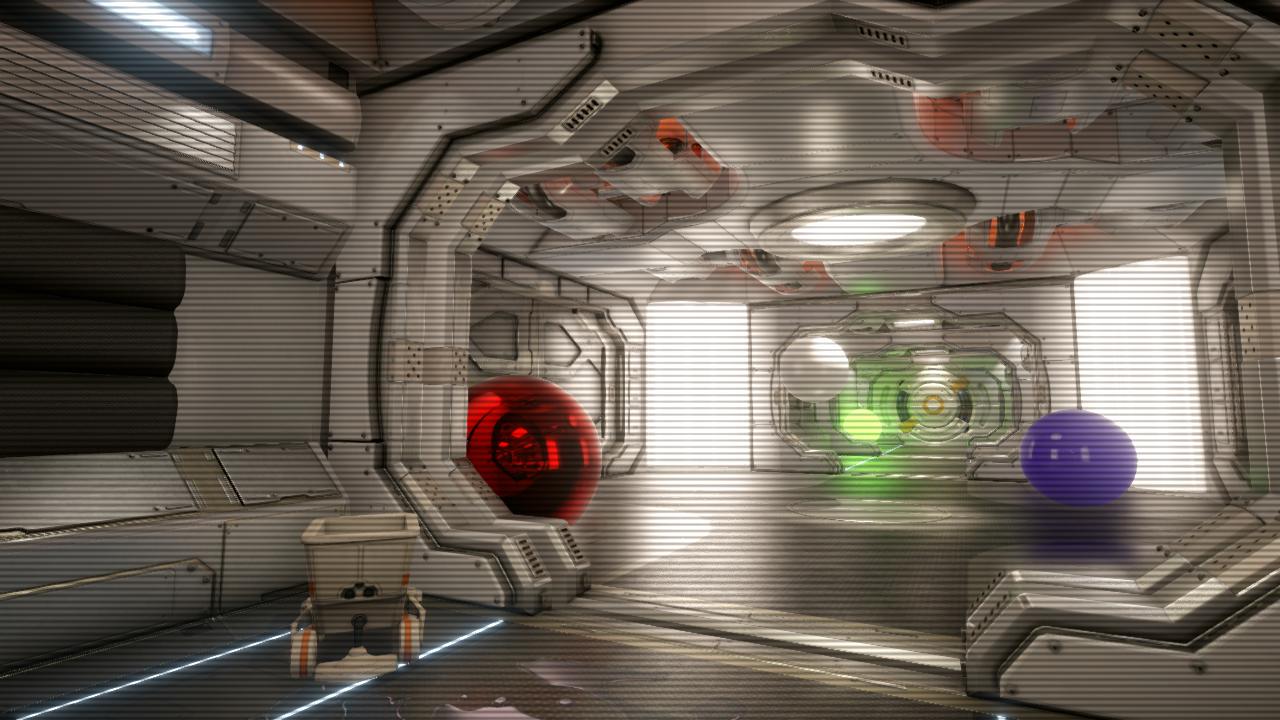 0
of
0
users found this section helpful
Tube Distortion
Simulates the curvature of a CRT screen.
Has three modes: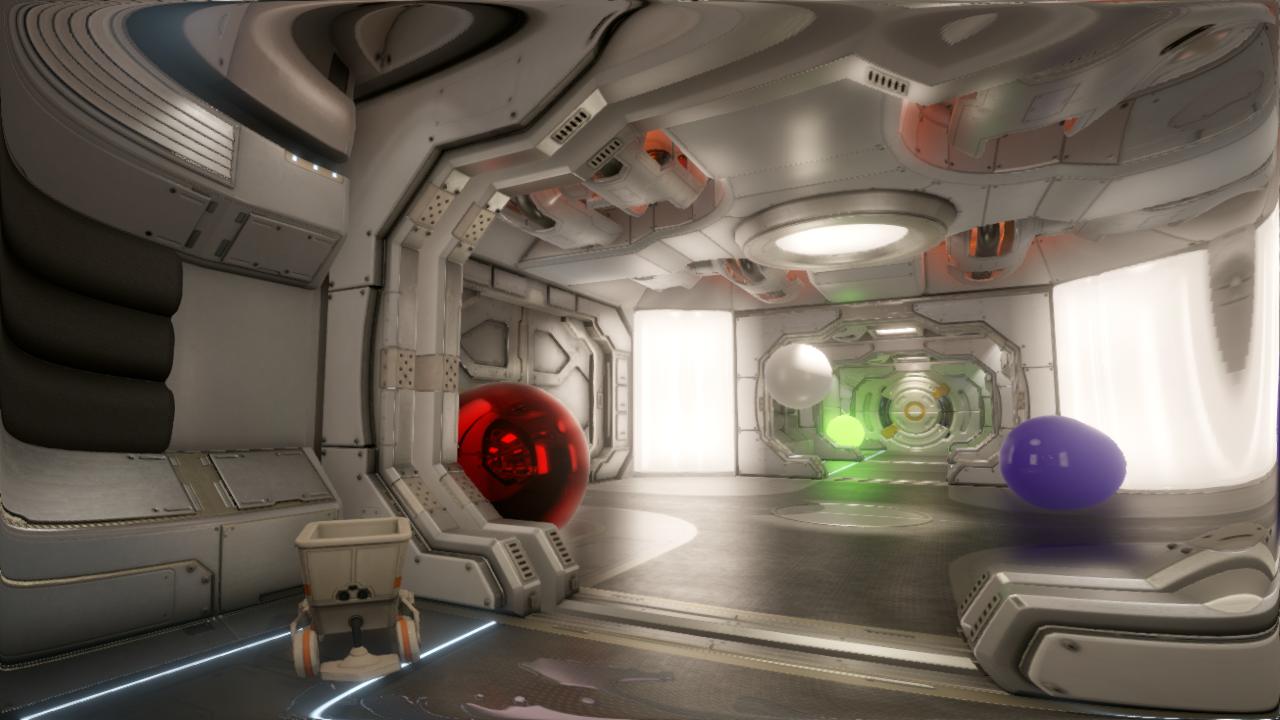 1
of
1
users found this section helpful