An Environment Artist's Unity toolkit
I often find myself scouring through old projects to find that one script, which takes care of some medial recurring task. Some of which are also available on the Unity wiki, others I wrote, or modified, myself.

Place these script in your project in a folder called "Editor", to ensure they work error-free!
Scene OBJ Exporter

Sometimes it's faster to prototype by creating level blockout in Unity, rather than relying on a 3D-modeling software and exporting the models to Unity after modification. There's a plethora of third party tools on the Asset Store which enable advanced geometry modeling in right the editor.
There comes a point, however, where you'd like to take your prototype environment and start refining it in your favorite modeling package. That is where this script comes in handy, as it allows you to export the selected MeshRenderers to a single, or separated, .obj file.
Screenshot Taker

What good is all your hard work if you can't end up showing it in glorious 4K, because your monitor doesn't support it?
This tool, a revamp of Saad Khawaja's "Instant Screenshot", will allow you to render a screenshot in any populair resolution. Which is great for promotional material, or saving progress shots.
ScreenshotTool
Export Terrain

This tool fits in into your environment prototyping, as you can sculpt the base of your terrain using the terrain editor and export the result to a .obj file.
Personally, I've used this a number of times to create faceted low-poly landscapes. Or to extract the basis for a cliff mesh.
ExportTerrain
Authors:
Eric Haines (Eric5h5): original.
Yun Kyu Choi: C# conversion.
Bit Barrel media: progress bar fix.
Replace Splatmap

Users of World Machine and Unity will be most familiar with this tool. Since a splatmap (RGBA texture denoting the masking of materials) created in World Machine will outshine anything you will end up painting inside Unity. By assigning a splatmap bitmap, the terrain's internal splatmap will be overwritten.
Author: World Machine
Model Import Preferences

Many times over I found my models folder cluttered with unwanted materials. By selecting a model file you can disable it's material(s) being imported with it. However, you can only do this once a model has already been imported.
This editor script will add some options to the Edit->Preferences menu that hooks into the model importing process, allowing you to toggle certain options preemptively.
ModelImportPreferences
Replace Selection

In case you ended up placing the wrong type of trees, or your prefab links are broken. This tool will allow you to swap out a selection of objects with anything else.
ReplaceSelection
Author: Dave A and yesfish
Animate Substance

Substance is a powerhouse of possibilities. Yet, there is not much talk about it's ability to animate parameters using the built-in "$time" variable. You can, for example, utilize the resulting texture in a shader and achieve some crazy results!
The download includes an example Substance material. You can however, use any other Substance, granted that it has a parameter bound to the $time variable: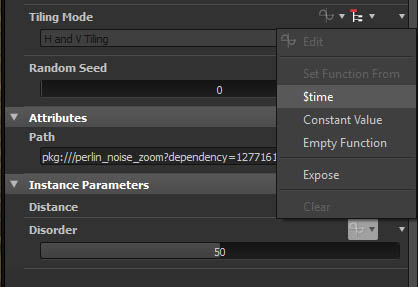 Keep in mind that the texture resolution and graph complexity has to remain extremely low, since it has to rebuild the graph continuously.
AnimatedSubstance
Hopefully these tools will be of some use to you!